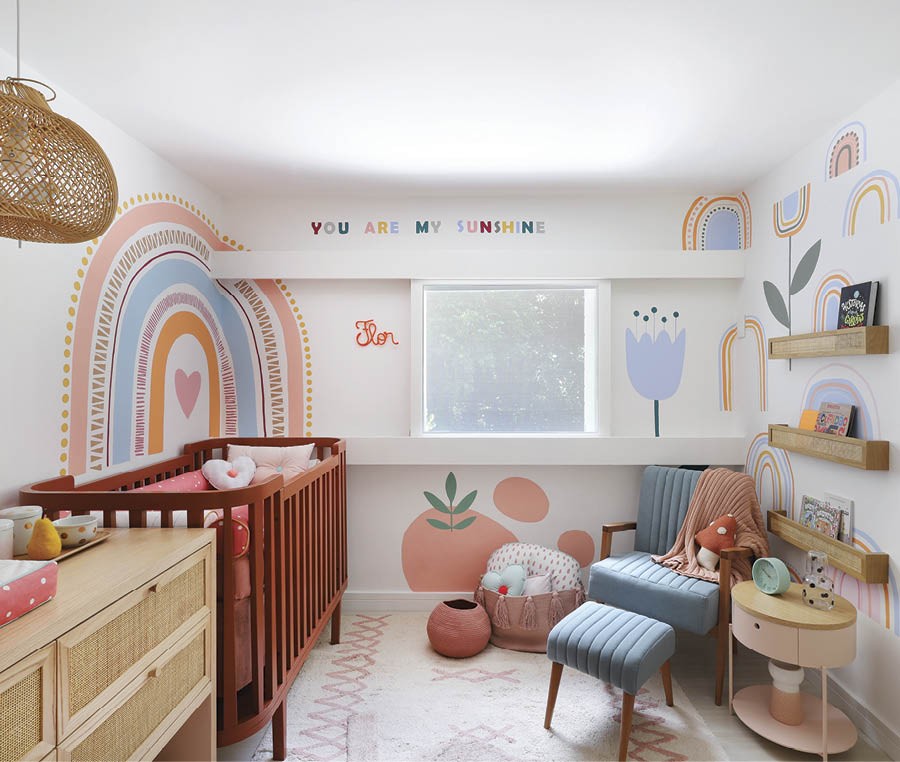 1. Timeless nature
Rainbows and flowers stylized by artist Giuliana Favero brighten up the walls of 8-month-old baby Flor's room. Architect Hana Lerner, responsible for transforming the 9.70 m² space in Rio de Janeiro, inserted everything that Dani, the baby's mother, had requested: a crib, a dresser and a breastfeeding chair. The project's differential, according to Hana, was the design of timeless furniture. "I designed a dresser with an open alcove so that when Flor starts to crawl, she can grab toys from that bottom. I also designed a little table and a bookcase next to the breastfeeding armchair that, in the future, will gain the function of a reading armchair. "We wanted the vibe of a natural room, so I used a straw next to the woodworking shop", completes Hana.
Project: @hana.lerner.arquitetura
2. Millimetrically thought
The layout of this room, measuring 10 m², was conceived by the architect Natália Castello, from Studio Farfalla, based on the built-in closet, with mirrored doors, which was already in place and could not be moved: "Next to this closet there was a space void, which was filled by the cradle. It was great, because the crib was placed in a darker corner for Malu to sleep". The space also provided a single bed and a dresser. Mariana, mother of the baby who is now 7 months old, told the architect that she would like a different room from the traditional one with stronger and earthier tones, including green, mustard, wine.
But it was Mariana's predilection for the prints of the wallpaper brand Mama Loves You that guided the basis of the lively floral theme. "We chose wallpapers that weren't too childish to be used for a long time. We selected the print of a tropical forest with a moss green background. A role with a lot of personality and style", she adds. The professional also used a paper with mustard grains on the other walls, which brought a more clean.
Project: @studio_farfalla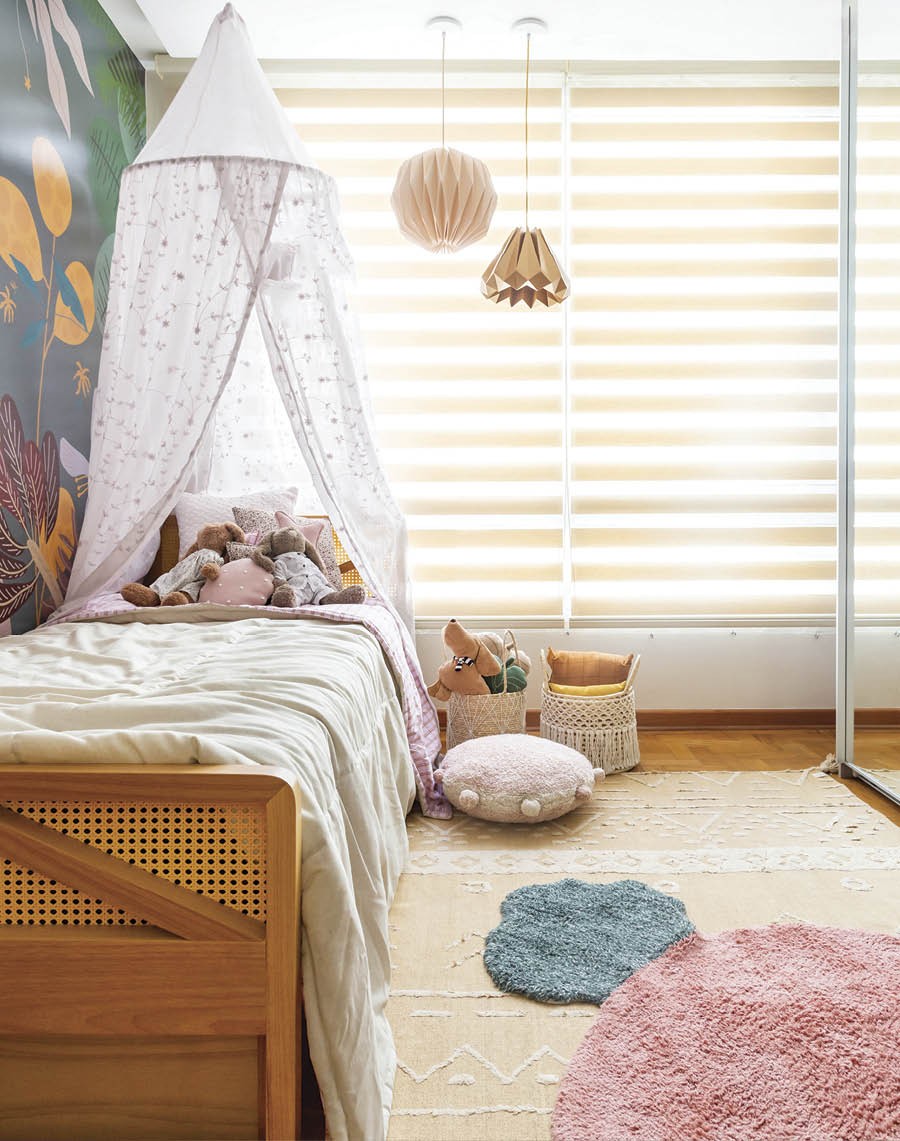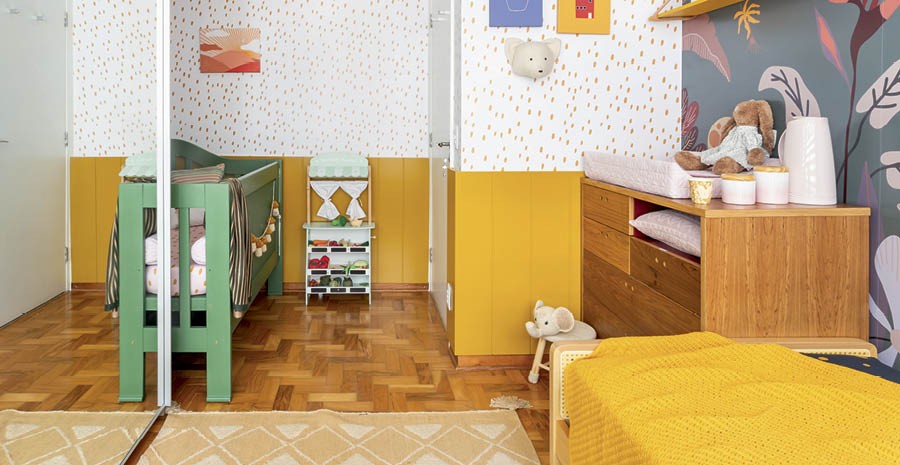 3. To reach for the stars
There's no shortage of stars in the outer space-themed room, designed by interior designer Livia Amendola for 5-year-old Daniel. The boy won the room with his favorite theme to leave his parents' room, where he used to sleep since early childhood. The room, measuring 8.90 m², is located on a penthouse in Niterói, Rio de Janeiro, and has a layout where it was possible to install two mismatched beds across the room. "Daniel wanted his bed to have two floors and a climbing wall so he could reach the stars," says Livia.
In addition to the boy's requests, the interior designer, together with civil engineer Rômulo Campos, was able to provide a study corner. "Our biggest challenge was, without a doubt, to deliver a complete project that met all the client's requests, without the environment causing a feeling of confinement or tightness. We managed to create a recreation, study and rest area, as well as storage spaces for clothes and toys", evaluates Rômulo.
Project: @studioliviaamendola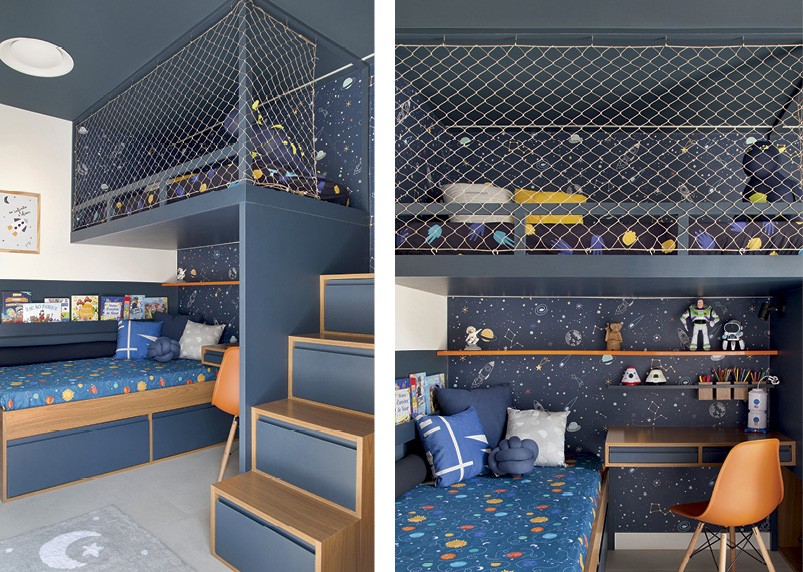 Want to talk to the columnist? Write to: grow@edglobo.com.br
know how to subscribe to Grow to access our exclusive content