São Paulo – SP, August 15, 2022, by Vanessa Higa. Today, you will learn to use your imagination and, using our tips and with some bathroom acessoriesyou will have an amazing and elegant decoration that will catch everyone's attention, check it out:
Contrary to what many think, one of the places where people like to reflect and replenish the energies of the day is the bathroom environment. So, this place needs to be comfortable, beautiful and functional. So, after a stressful and busy day, there's nothing better than a warm bath in a cozy place.
In addition to being elegant, fragrant and beautiful, it is very important to be functional to facilitate the day-to-day rush in our routine. So, accessories go far beyond beauty and elegance, as they have a much-needed function, which is the practicality of keeping everything organized and, at the same time, serving as decoration.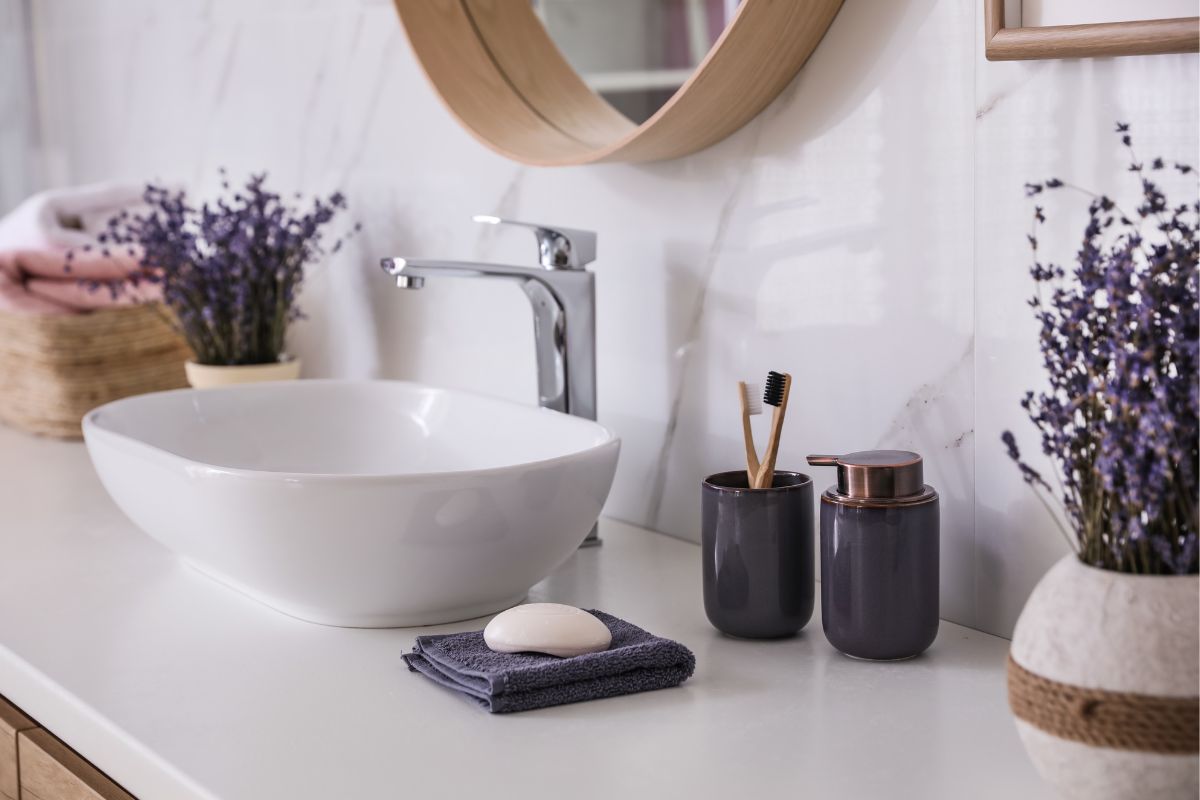 How to use bathroom accessories and make it elegant?
So, if you are a person who cares about the environments of your home, especially the bathroom, and you also want to make it even more elegant, but at the same time cozy with the accessories and decoration, write down everything and see our tips.
Mirrors: an essential object in our bathroom! So, see the best frame of your taste and that is authentic, being able to be round, square or triangular, you are in charge;
Plants: some people think that, because it is a closed, humid place that doesn't have much light, it's not nice to have a plant in this environment. On the contrary! Use the most recommended, such as the Sword of Saint George, Violet and Asplenium, so it will be a beautiful place, using a vase and giving it a more natural touch;
Trays: a tray in your rest and reflection environment can make it even more elegant. That way, you can use it to place scented candles, perfume bottles, liquid soap and even towels, depending on the size of your sink, for example.
Clothes basket is one of the bathroom accessories: in addition to not letting your clothes show, it avoids leaving them on the floor. The basket is an ally to make your bathroom more beautiful, and can be a decorative element. So, see the best model that matches your bathroom;
Bathroom kit: a perfect set to give that organized on the countertop and also use as decoration, and can be used to leave toothpaste, brushes, cotton, liquid soap and other objects. Choose from glass, plastic, acrylic or ceramic.
Other types of accessories to decorate
In addition to these objects that we gave as tips above for bathroom accessories, it is possible to use others, because it all depends on the personal taste of who will decorate. However, we separate a very different list:
rugs;
diffusers;
Frames;
Lighting.
Use your imagination that will surely transform your life, making your environment even more beautiful, without absurd expenses! Finally, now that you've learned how to use the bathroom acessories in a more beautiful and elegant way to make your life easier and give you more mood for your day, be sure to like and share these tips with everyone. But, if you want other types of tips and recipes, stay on our website and enjoy.