Roger Dias – State of Minas
posted on 8/23/2022 11:17 am / updated on 8/23/2022 11:19 am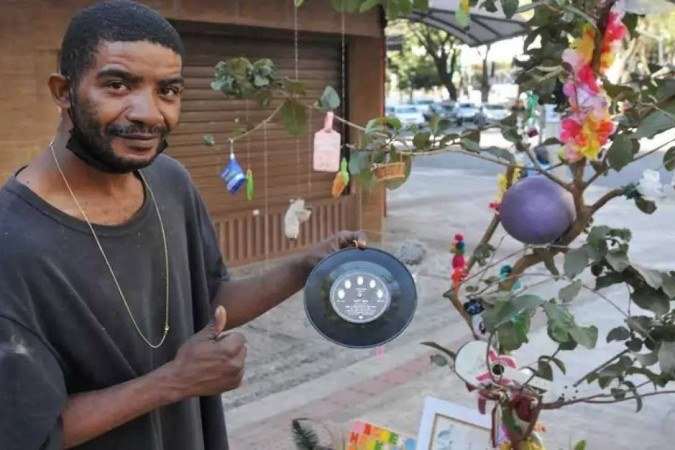 (credit: Gladyston Rodrigues/EM/DA Press)
If you're an art lover, you'll know that it doesn't just have to be in museums, galleries, schools or universities to be properly appreciated. It can be placed in the open, on a simple sidewalk, a place where many people pass, some with distracted looks. In Lourdes, one of the most luxurious neighborhoods in Belo Horizonte, a work of art catches the attention of everyone who crosses the corner of Rua Bernardo Guimarães and Avenida Álvares Cabral.
The creator is Diones Osório, born in Santa Luzia, but who chose to live on the streets of the capital about a month and a half ago. With recycling as his livelihood, the 30-year-old citizen selected some objects he found in the trash to develop a work next to a guava tree that is next to where he spends every night.
"I named it Jardim Encantado de Lourdes", says Diones, who recognizes that the initiative came about by chance. "I was looking at the goiana tree and I saw it sad, without leaves. I was sad too. I decided to do one thing to change that. And then came the idea of ​​putting toys and other things. Soon, it gave rise to art," he says.
In his work, there is everything: stuffed animals, key chains, balls that decorate the Christmas tree, toothbrush, pencils, bottle caps and carts. At the center of the decoration, an old LP catches the eye: Some Time in New York City, recorded by John Lennon and Yoko Ono in 1972, much sought after by collectors.
"I found this record a few days ago and it gave a different glow here. A lot of people want to take it home, but I don't go early", jokes the homeless person.
There are many onlookers who take the opportunity to take pictures of the new work of art. "Everything done with care must be valued," said a woman who was passing by.
Diones decided to move to the capital after taking on a debt. He is greeted by his children, but cannot return to see them.
kids love
According to Diones, the ones who most admire the initiative are the children. "When they come here, they immediately try to take a little toy home. The mothers soon curse, but I let them. What you have here you can take home. At another time, I recompose the decor," he says.
Because of the art installation, several people donate some change to Diones. "A woman left several paid coffees in the cafeteria nearby".
He says he wants to expand the decoration on other trees in the region. "If people ask, I do it from the heart".