Continues after advertising

Curitiba, August 20, 2022, by Caroline Fortunato – A rhipsalis It is a plant widely used in indoor decoration. It has some of the most used types and we will show you which ones are so you can choose which one best suits your environment. Maybe you don't know her by that name, but by cactus-noodles, being more popular among people.
Continues after advertising

The more than 50 species of rhipsalis are native to the Americas, and some are typical of Brazil. The cultivation of this plant does not require much care, just attention to put into practice the practical needs for its survival. Check out everything you need to know about her now.
Continues after advertising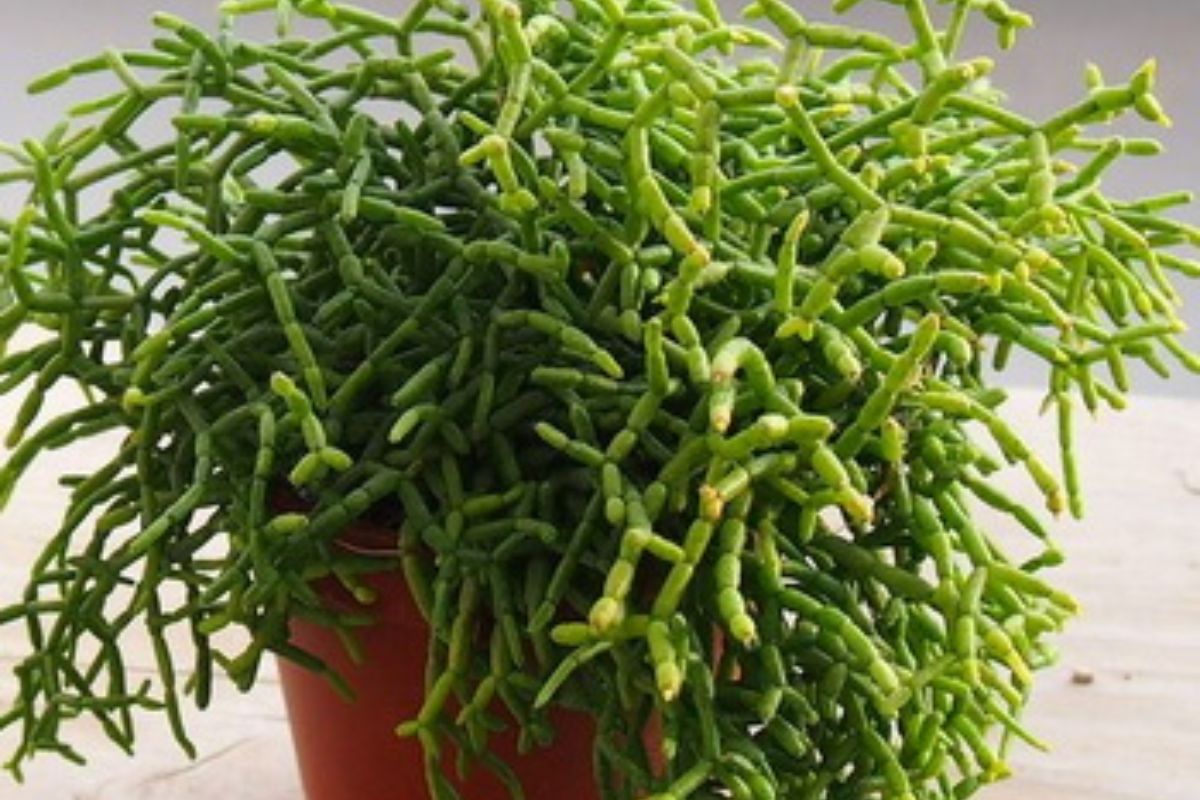 How to grow rhisalis
Despite being a plant widely used in interior decoration, rhipsalis is quite resistant to low temperatures, sun and wind. The Agro e Jardim website will show you how you can grow it at home, as well as the most used species. Being that, to plant it, you will need a stem seedling. This is the most practical way and will give a positive result. That way, your plant will develop quickly and you don't run the risk of it not growing.
Step by step on how to plant and care
First, get a rhipsalis seedling from the florist or from someone who already has the plant and can offer you one. Remembering that each stem / branch of the plant will serve as a seedling, will grow and form a beautiful plant. Once that's done, add organic fertilizer to a medium-sized pot. Then place the seedling in the center, gently pushing its stem so that it stays firmly in the fertilizer. Ready, super easy planting is done.
Now, the most important part; the care you need to take for this seedling to grow and develop. As for watering, do it only when the soil is dry, and never let it get soggy.
Place the pot in a shady or semi-shade location so that it receives indirect sunlight. The best time to plant is between winter and spring. Its flowers usually begin to appear at the end of winter, and soon after, its fruits. Remember, these fruits are not edible.
types of rhipsalis
Rhipsalis pilocarpa – This species is widely used in vertical gardens, so it will be perfect mounted as a green wall that forms a beautiful curtain. Also, it doesn't need a lot of maintenance. It has white hairs throughout the plant and its branches and stems are dark green;

Rhipsalis baccifera – Its white flowers bloom throughout the year. It has very voluminous branches and its branches are long and cylindrical. You can choose whether to grow it in hanging pots or just positioned over a location;
Rhipsalis erecta – Unlike the other species, this one doesn't grow much, neither in volume nor in height. Its stems have an accelerated growth compared to the others;
Rhipsalis cereuscula – Also called coral cactus, it is perfect for indoor decorations because of its medium size that does not reach great heights. In addition, it is a very cute and delicate plant, making it a favorite among other species for decoration;
Rhipsalis elliptica – This species is quite different from the others because its foliage grows downwards, in addition, they are well designed and flattened. It is used for decoration in suspended vases and blooms throughout the year at specific periods.
These were some of the species of rhipsalis most used in interior decoration. Its cultivation and care are super practical. That way, it becomes easier to have them in any room in your home. Remembering that the care and the way of planting apply to all the species mentioned.